Cities around the world are changing rapidly, adapting to new conditions, new demands, a new human geography and the Greek capital is no exception. It has acquired plenty of new habits over time, but it has also lost many of its old hangouts. Some unfledged places are attempting to regain that thread by looking back into the past through various perspectives and creating new scenarios based on the memories of a bygone city. By returning to the past, both in an aesthetic and culinary sense, these places re-examine it, recreate it and bring it to the present. Counting on all things rejuvenating, this neo-nostalgia feeds the need for warmth, humanity and a lost innocence. So here's a taste of the old Athens seen through the eyes of young people, in three venues that build their own comfort zone with old and new materials.
Just a few years ago, on a corner of Mitropoleos Street on the edge of the shopping district with Plaka, Cherchez la femme (Mitropoleos 46, +30 210 3222020) set up its very own vintage scene by tapping into the tradition of the old coffee house. Congenial, with an urban character, walls decorated with figures from the Greek shadow theatre, old black-and-white photographs and a charming and cozy old timey feel, this is the best spot to enjoy a cup of Greek coffee – roasted the traditional way in hovoli (hot sand) and served with a loukoumi (Turkish delight), which is a typical Greek household treat. Of course, you can also grab a bite to eat. Drawing inspiration from the dishware used by Greek mothers and grandmothers, the plates that spread across the marble tables are sometimes classic, other times have a slightly modern touch, and are small in size so they can be shared in the middle, and you can accompany them with local wines and spirits. Try the spinach twist pie, the sausage meatballs and the… sinful pan-fried chips. If you don't have breakfast or brunch, then grab the opportunity and try the kayiana, the Greek-style scrambled eggs with tomatoes and feta cheese.
Neo-Nostalgia feeds the need for warmth, congeniality and a lost innocence
Heading towards the nearby buzzy square of Agia Irini, we find Senios (Kalamiotou 15, +30 210 3318778) which is housed in a warm space inspired by the traditional Greek bakalotaverna (a taverna with in-store products on sale), which were once found in Athenian neighbourhoods. Vintage refrigerators, shelves packed with pulses, pickles, spices, garlic garlands and small peppers all set the atmosphere, as the old-fashioned serving tray lands on the table loaded with cold meze snacks for you to choose – they say "it is a feast for your eyes" and that is surely the case here. You can start with a refreshing tzatziki (a yogurt spread made with cucumber and garlic), tyrokafteri (spicy feta cheese spread), dolmadakia (vine leaves stuffed with rice and herbs), or whatever tickles your appetite and then choose from the meat and seafood options on offer. The chopped pork chops resembling a souvlaki are a popular favourite, where, instead of the usual pita bread, they come on a hearty flatbread filled with feta, fried chips, onions and roasted tomatoes. Some of the Greek style cocktails are also worth investigating.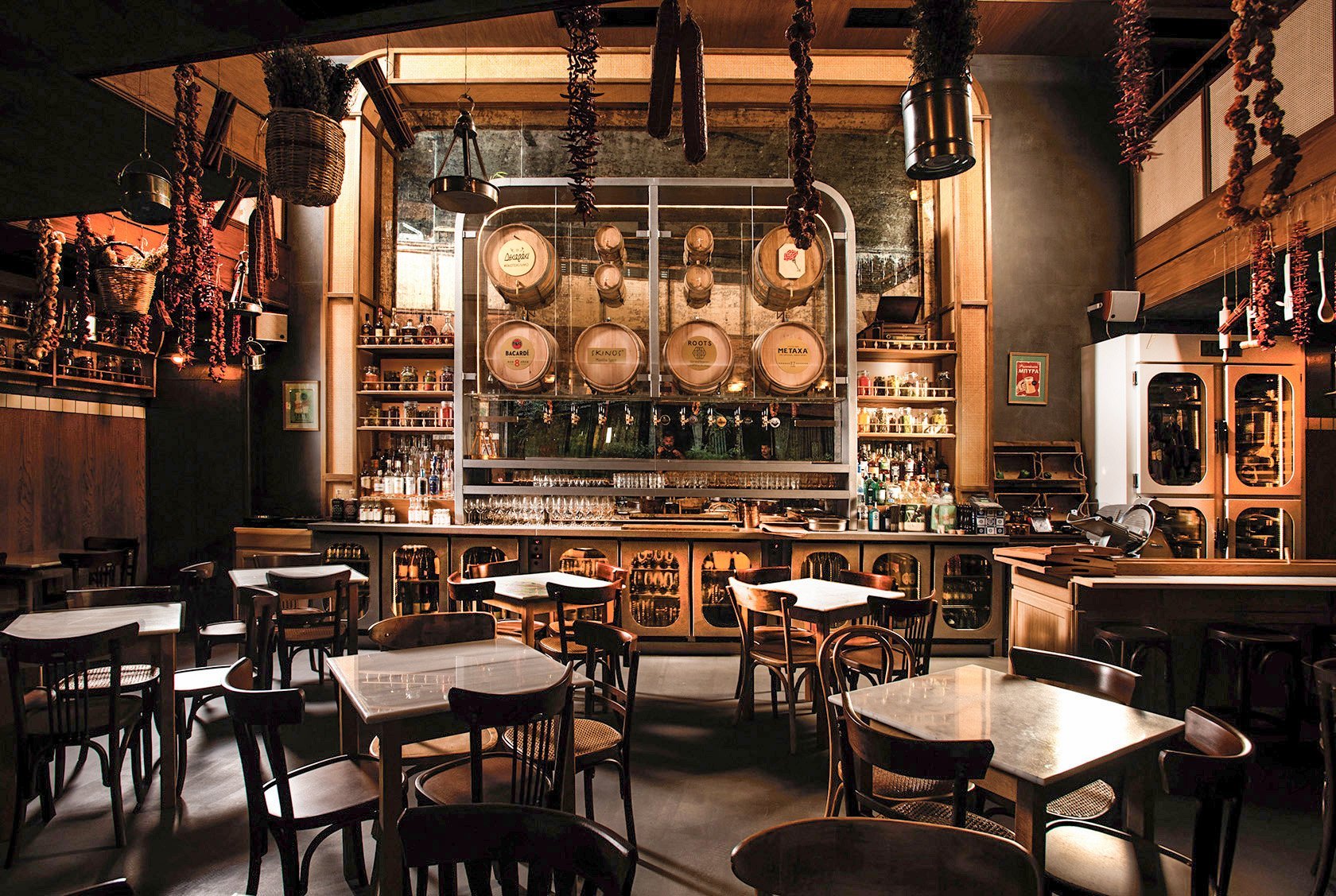 Another good option is Το Locali (Sarri 44, +30 210 3250673) meaning "local" or "one of us". It popped up last summer in the Psiri vicinity taking over from an old and much loved open air cinema, and soon managed to make a name for itself – as early as the first week its yard was crammed with people. Even now in wintertime, you can enjoy the greenery outside whilst sitting by the stove, or indoors where the decoration is a cool rendition of Greekness, a game of coexistence between old and new. A cheerful, vibrant crowd eats and drinks in this sui generis Greek pub, chatting away next to old woven textiles and folklore tsolia figurines. Just above the bar, the cartoonist known as "The Rabbit Knows" has drawn the neighbourhood's characteristic figures, proving that an ancient character and a rebetis can jointly oversee a bartender preparing an Old Fashioned cocktail with tsipouro. As for the dishes that emerge from the kitchen, they all incite a meze-type meal: meatballs and chips, small fried fish, open pies, orzo seafood…